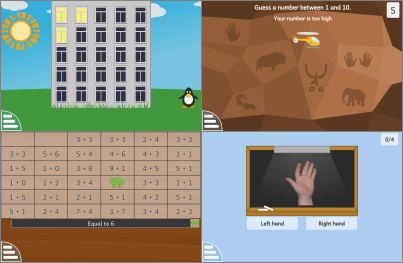 Hi,
We are pleased to announce the release of GCompris version 1.1.
This is a maintenance release, so every GNU/Linux distribution shipping 1.0 should update to 1.1.
Here is a summary of included changes:
Graphics have been updated for 21 activities.
We have fixed lots of bugs.
A build for Ubuntu Touch has been added.
The spelling of the Turkish districts has been fixed.
We added a minimal .msi alternative package for Windows.
The GCompris executable has been relicenced to AGPLv3 due to a dependency of analog electricity.
On the translation side:
Albanian, Belarusian, Brazilian Portuguese and Russian have been completed.
Irish Gaelic and Macedonian have returned (partial translation above 80% for now).
Wordset for vocabulary activities has been added for Albanian and Macedonian.
All the voices have been added for Lithuanian.
We have now 27 languages fully supported: Albanian, Basque, Belarusian, Brazilian Portuguese, Breton, British English, Catalan, Catalan (Valencian), Chinese Traditional, Dutch, French, Greek, Hebrew, Hungarian, Indonesian, Italian, Macedonian, Malayalam, Polish, Portuguese, Romanian, Russian, Slovenian, Spanish, Swedish, Turkish and Ukrainian.
We also have 4 languages partially supported: German (91%), Irish Gaelic (87%), Lithuanian (96%) and Norwegian Nynorsk (85%).
You can find packages of this new version for GNU/Linux, Windows and MacOS on the download page. This update will be available soon in the Android Play store, the F-Droid repository and the Windows store. The package for Raspberry Pi will also be available soon.
Thank you all,
Timothée & Johnny