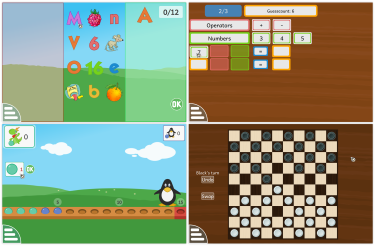 Hi,
We are pleased to announce the release of GCompris version 0.80.
This new version contains 6 new activities:
a categorization activity where the child has to categorize item depending on the theme (by Divyam Madaan)
a guess count game where the child has to find the good operation to find a given number (by Rahul Yadav)
a game where you have to let the opponent put the last ball (by Utkarsh Tiwari)
same as above but the child plays with a friend (by Utkarsh Tiwari)
a checkers game (by Johnny Jazeix)
same as above but the child plays with a friend (by Johnny Jazeix)
We always have new features and bug fixes:
Polish lang dataset by Łukasz Wojniłowicz
Swedish lang dataset by Stefan Asserhäll
Ukrainian lang dataset by Yuri Chornoivan
new icons
updated graphics on several activities
lots of bug fixes
website translation migrated to KDE infrastructure and translated in Belarusian, Catalan, Catalan (Valencia), Romanian, Portuguese and Ukrainian
new mingw windows builds
partial translations in Greek and Hindi
You can find this new version here:

Android:
The new version is available in the Android store

Windows:
Windows 32bit or Windows 64bit version

Linux:
If your distribution doesn't provide an updated package, use one of those standalone installers. They must be launched from command line, after adding executable permission on the file. (based on Centos7 - will not work on distributions with older system libraries).
Linux 32bit or Linux 64bit version
md5sums :
For all downloads: md5sums
GPG verification :
The source tarball, the windows and the GNU/Linux installers are signed. You can retrieve the public key over https here:
0x63d7264c05687d7e.asc
.
On the translation side, we have 17 languages fully supported: Belarusian, British English, Brazilian Portuguese, Catalan, Catalan (Valencian), Dutch, French, Galician, Italian, Norwegian Nynorsk, Polish, Portuguese, Romanian, Spanish, Swedish, Turkish, Ukrainian; and some partially: Breton (75%), Chinese Simplified (88%), Chinese Traditional (90%), Estonian (91%), Finnish (63%), German (92%), Greek (90%), Hindi (98%), Russian (88%), Slovak (88%), Slovenian (80%).
If you want to help, please make some posts in your community about GCompris.
Thank you all,
Timothée & Johnny